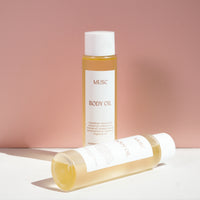 The perfect post-shower treat to nourish and hydrate your skin. Our body oil is a blend of carefully chosen oils that will enhance your skin's radiance and texture.
Almond oil, coconut oil, safflower oil, avocado oil, rosehip seed oil, apricot kernel oil, vitamin E, fragrance oil.
Apply to damp skin after showering and pat dry. Use as a massage oil when needed.